Larry H. Miller Used Car Supermarket Boise - Opportunities to grow and succeed!
From the very beginning, Larry H. Miller has had the philosophy:
 "Have fun, make money, and take care of the customer." This mentality is what has inspired, motivated, and propelled a simple beginning in the automotive parts industry to one of the largest, privately owned entities in the western United States. If you are looking for an exciting and rewarding career, look no further! Larry H. Miller Used Car Supermarket, part of the Larry H. Miller Dealerships, offers great advancement opportunities within the organization and an incredible management team to help you grow and succeed. Larry H. Miller Used Car Supermarket is committed to delivering the best customer experience possible in a friendly, no-hassle environment.
We are in need of Highly Motivated Individuals that want to be a part of the FASTEST GROWING automotive industry.
Our Customers Love Us
"I don't like high pressure sales people..... I'd rather have root canal surgery. HOWEVER, the people at Larry H. Miller were a joy to work with. Total opposites of what I have dealt with in the past. No pressure ,easy going experience.
I get overwhelmed pretty easy when buying a car, but the staff here were FANTASTIC to work with. Gavin and Laura were the best. Finance was accommodating.
I recently purchased a Kia Sorrento. Three days into my newly acquired car a huge crack line appeared on my windshield...... they took care all of it! I mean WOW! They could of said let your insurance deal with it........EXCELLENT DEALERSHIP!!!! Thank you!!!! Sending people your way!"
~Laura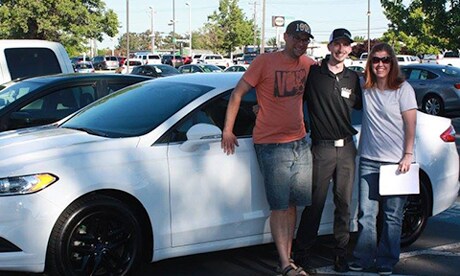 "Have a little fun. Make a little money.




Take care of the customer."
~ Larry H. Miller
Perks & Benefits
• Healthcare/ Dental/ Vision
• Paid Vacation
• 401K
• 1% Holiday Match
• Family Scholarship Program
• Employee/family vehicle purchase plans