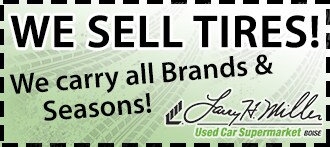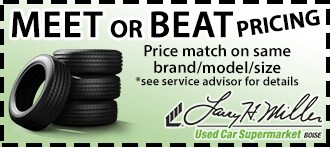 It is important to properly care for your tires since your vehicle is dependent on it's tires to stop and steer while keeping you on the road and in control. Taking proper care of your tires will also save you money by extending the life of your tires and saving money at the pump.
Visit us at LHM Service Supermarket for your next set of tires!
Tire Wear: How do I know when to replace my tires?
Worn tires dramatically increase your stopping distance and can turn a close call into a collision. Many people credit their brakes for a vehicle's stopping time or distance and overlook the important roll tires play in converting the capabilities of the braking system into actual stopping distance. Protect you and your vehicle by replacing your tires before they become worn out and dangerous.
Service Supermarket
9380 W Fairview Ave.
Boise, ID 83704
(877) 999-1752
Hours:
Monday............8:00am - 6:00pm
Tuesday...........8:00am - 6:00pm
Wednesday......8:00am - 6:00pm
Thursday..........8:00am - 6:00pm
Friday...............8:00am - 6:00pm
Closed Saturday & Sunday
When will you stop?
An independent study conducted in 2007 tested and compared the stopping abilities of new tires (10/32"), worn tires (4/32"), and bald tires (2/32" the legal limit in most states). Both a sedan and pickup truck were used for testing, and stopping distances where measured on an asphalt track at a speed of 70 mph in 0.05-0.06 inches of water.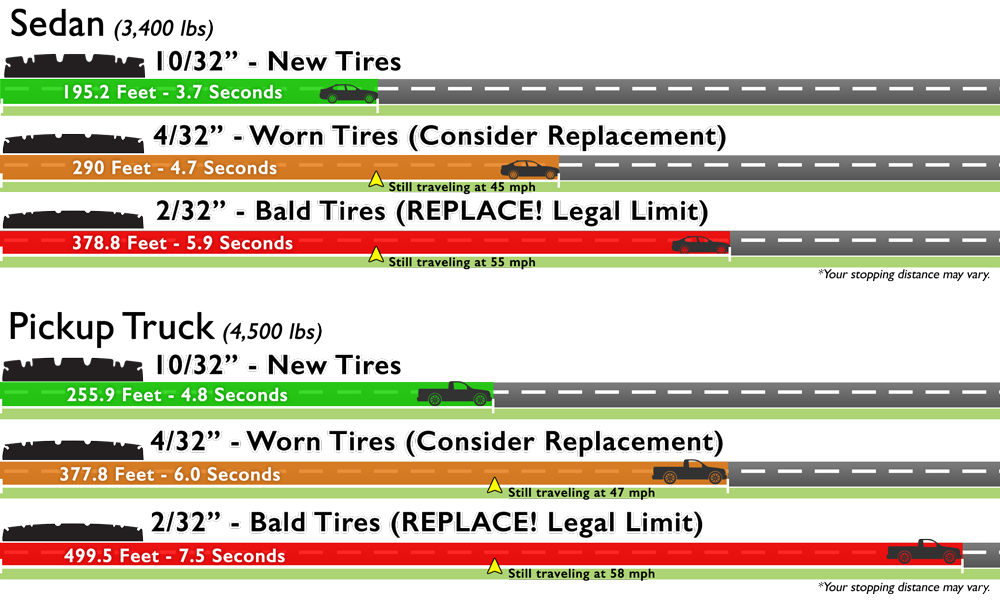 As you can see, it took almost twice the distance for both the sedan and truck to stop on bald tires in comparison to new tires. And by the time the truck with bald tires had reached the stopping point of the new tires it had only slowed by 12 mph.
You can't always drive on new tires but replacing them when they get to 4/32" (or even 3/32") can make a big difference, especially in the fall and winter months. Talk to your service advisor at LHM Used Car Supermarket about getting your tires replaced before winter hits.


How do I test my tire tread depth from home?
 The easiest way to test your tire tread depth if you don't have a tire tread gauge, is by using the penny or quarter method. By placing a penny or quarter head-down into your tire grooves you can determine how much tread is left by how much of Washington's or Lincoln's head is visible. 

If you notice your tire tread getting low, call or
schedule an appointment
at Larry Miller Used Car Supermarket for new tires! Our experienced mechanics can also perform tire inspection for you to ensure even ware, proper inflation, and check for any visible damage. At our Service Supermarket, we also perform tire rotations and wheel alignments to ensure you get the full life our of your tires and keep your vehicle's handling smooth and efficient.
Tire Rotations: How often should I rotate my tires?
Tire rotations should be performed about
every 5,000 to 7,000 miles
of driving. The easiest way to remember to get your tires rotated is to have it performed with every oil change on synthetic oil vehicles and every other oil change on conventional oil vehicles. Tire rotations are important because they ensure even wear across all four tires, extending their life and improves performance. If you were to never rotate your tires, the front tires would become worn much faster than the rear since the front wheels do all of the steering and the majority of braking. 
Having your tires rotated at the correct intervals is especially important on all-wheel drive (AWD) vehicles. Modern AWD vehicles require all four tires to be very close in size, therefor any tire replacements need to be done in sets of four. This is due to differing spin rates among different sized tires, for example a worn tire has a smaller circumference and faster spin rate than a new tire. Having a smaller tire on an AWD vehicle causes the AWD system to react as if the tire is slipping due to loss of traction. This puts unnecessary wear on the AWD components that are trying to put traction on the tires that aren't slipping. Having different sized tires can also adversely effect how the Vehicle Dynamic Control system works. 

Have our technicians at Larry Miller Used Cars perform a tire rotation on your vehicle when you come in for your next oil change. We also have prepaid maintenance plans available that bundle your oil change, tire rotation, and multipoint inspection together to save you money! Ask your service advisor about saving money with a maintenance plan today! Call us at (808) 505-9348.
Have a Question About Tires?